Kenya on Friday inaugurated Africa's biggest wind power plant, a mammoth project in a gusty stretch of remote wilderness that now provides nearly a fifth of the country's energy needs..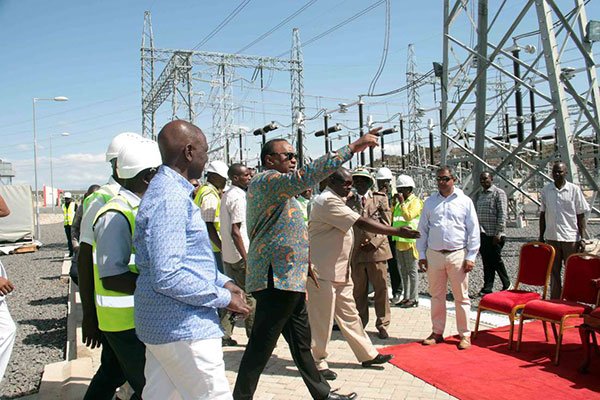 The $680-million project, a sprawling 365-turbine wind farm on the eastern shores of Lake Turkana, is delivering 310 megawatts of renewable power to the national grid of East Africa's most dynamic economy.
The largest private investment in Kenya's history, the Lake Turkana Wind Power project was beset with delays and took nearly a decade to rise from the arid landscape 600 kilometres north of Nairobi.
Today the windmills—scattered across Turkana's stark lunar landscape and rocky hills—deliver 15 percent of Kenya's entire installed capacity, connected to the national grid through a 428-kilometre power line.
"Today, we again raise the bar for the continent as we unveil the single largest wind farm," said President Uhuru Kenyatta, after touring the project.
"Kenya is without a doubt on course to become a world leader in renewable energy."
The project lies in a natural corridor dubbed "the windiest place on earth" and promises to harness this endless power at low cost.
Kenyatta has previously committed to 100 percent renewable energy for Kenya by 2020—a pledge the government has been accused of betraying with plans to build a coal-fired power plant off the coast in Lamu.
The EU's lending facility loaned $200 million for the project, which received other finance from a consortium of European and African companies.
"There was a delay, there was a few difficult moments, I have to say, for everybody, but in the end we all made it," Collin said.
Not only is the launch "an incredible journey"for Kenya but more than anything it let the world know Kenya's untapped clean energy markets were open for business.