Greek-Nigerian, Giannis Antetokounmpo has been Named the 'Best Male Athlete' At the 2019 Excellence in Sports Performance Yearly (ESPY) Awards.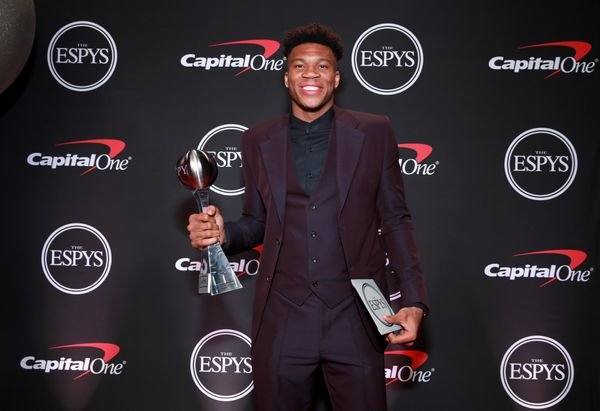 The awards recognize individual and team athletic achievements, as well as other sports-related performances.
It was the Greek-Nigerian player's first time being nominated for Best Male Athlete, and he beat out four other nominees including Patrick Mahomes of the Kansas City Chiefs and golf star Brooks Koepka to earn the win.
Antetokounmpo also scored a nomination at the 'Best NBA Player' for the second time in a row, but he also won in the category, which included James Harden, his biggest challenger for this year's NBA MVP award., Kevin Durant and Paul George.
The 24-year-old athlete was all smiles when he took to the stage to accept the award for Best Male Athlete, jokingly referencing his heartfelt MVP speech and telling the audience: "this won't be like the NBA speech, I'm not going to cry today."
"When you believe in your dreams, things like this can happen," he added.
The annual ESPY Awards, established in 1993, recognize achievement in the sports world by honoring its best players across various fields. With his breakout performance in the league this year, it makes sense that
Antetokounmpo would receive not one but two of these prestigious awards.
Giannis Antetokounmpo
Giannis Antetokounmpowl was born in Greece to Nigerian parents, he began playing basketball for the youth teams of Filathlitikos in Athens. In 2011 he began playing for the club's senior team. He declared himself eligible for the NBA Draft in 2013 and was selected 15th overall by the Bucks.
On August 1, 2015, Antetokounmpo played for Team Africa in the 2015 NBA Africa exhibition game, representing Nigeria due to his parents being born there.
Giannis Antetokounmpo is currently the 75th highest-paid celebrity in the planet for 2019, according to Forbes. The "Greek-Nigerian" has earned an estimated sum of 43.2 million in 2019 so far making him the highest-paid European basketball player.