About 400,000 children are at risk of starving to death in the Democratic Republic of Congo, the United Nations says.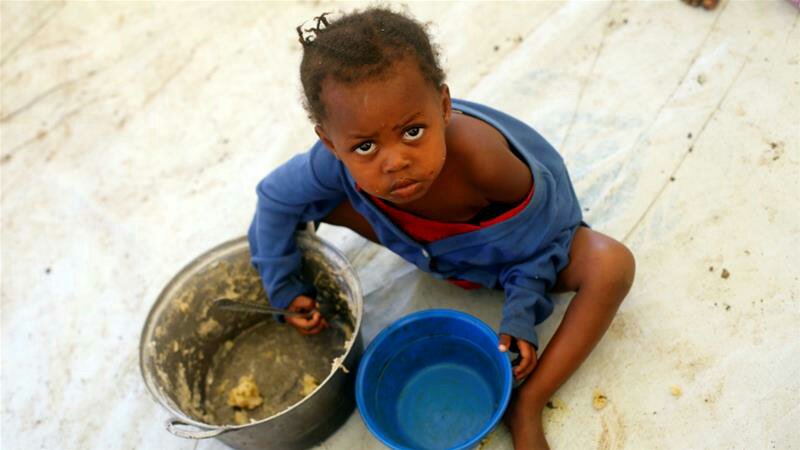 Fighting between government forces and regional militia in the Congo's central Kasai province has created a "perfect storm of poverty, deprivation and conflict for the most vulnerable children", UNICEF said in a report on Friday.
It called for urgent action to stop the violence against children; ensure access to essential services for all minors; and provide support for sustained humanitarian assistance.
According to the UN, an estimated 1.3 million people in Kasai were forced from their homes after fighting broke out in the region over a power dispute between a local chief and government authorities in August 2016.
UNICEF estimates that as a result of the displacement, which saw thousands of families flee to the countryside without adequate food or water supplies, hundreds of thousands are now facing severe acute malnutrition.
"An estimated 770,000 children suffering from acute malnutrition, 400,000 of whom are suffering from severe acute malnutrition and are on the verge of dying."
What is the fighting about?
Some of those who fled the fighting are now returning to their destroyed villages, where no crops have been planted.
Unicef estimates that almost four million people in Kasai need aid. Malnourished children are the most vulnerable.
The organisation says it wants to scale up feeding centres, train medical staff, and support children who were forcibly recruited by armed groups.
The rebellion broke out in 2016 after the government refused to recognise a traditional chief, Kamina Nsapu, and imposed its own man instead.
Both his supporters and the army have been accused of widespread atrocities.