Team Nigeria topped the medals table with 21 gold, 17 silver and 12 bronze medals in the overall result of the medals table at the maiden edition of the Africa Cup Track Cycling on Sunday in Abuja.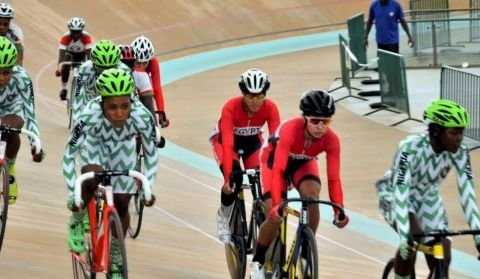 The Africa Cup Track Cycling was set up to give African countries a chance to develop in the sport. Well, at the maiden edition, which was hosted by the Cycling Federation of Nigeria in Abuja, Nigeria scaled through to emerge as the winner.
According to reports, 10 countries participated in the three-day event, but Nigeria crushed the others after packing 21 gold, 17 silver and 12 bronze medals – all totalling 50 medals – in both junior and elite categories.
Team Nigeria's domination in the competition started on Friday and carried on until Sunday. Some of the athletes that did the country proud include gold-winners, Ajibade, Olusade Adesola, Tawakalt Yekeem, Bethel Okeyah and John Gabriel.
With a performance like this, not only is it safe to say that Nigeria is growing in cycling, but it's also clear that the country has what it takes to go for the gold in the sport at the 2019 African Games, scheduled to take place in Morocco next month.