Facebook has revealed that Bronze medal winners Nigeria were the most talked-about team on Facebook. They were followed by second-place finishers Senegal, winners Algeria, South Africa and Tunisia.
Nigeria generated the highest conversations about the AFCON on Facebook ahead of South Africa, Ghana, Algeria, Senegal and Egypt. The stats further reveal that Nigeria generated the most discussions on Facebook about AFCON.
Facebook data indicates 10 million people worldwide engaged with the 2019 Africa Cup of Nations on the platform during the month-long championship that Egypt hosted from June 21 – July 19.
The tournament generated more than 30 million interactions (posts, comments, likes, shares) on the social network as people reacted to events on the field while watching on television, listening on the radio and engaging via other OTT platforms.
The two semi-final day on July 14 was the biggest day for Facebook as Nigeria lost late to Algeria while Senegal defeated Tunisia via an own goal.
Furthermore, the day that got most people engaged on Facebook was the day of the semi-finals, in which Nigeria played against Algeria.
Most Talked-About players
According to the stats, Algeria's Riyad Mahrez was the most discussed player in the tournament, way ahead of Golden Boot winner, Odion Ighalo, who came in at number five on the list.
See infographic below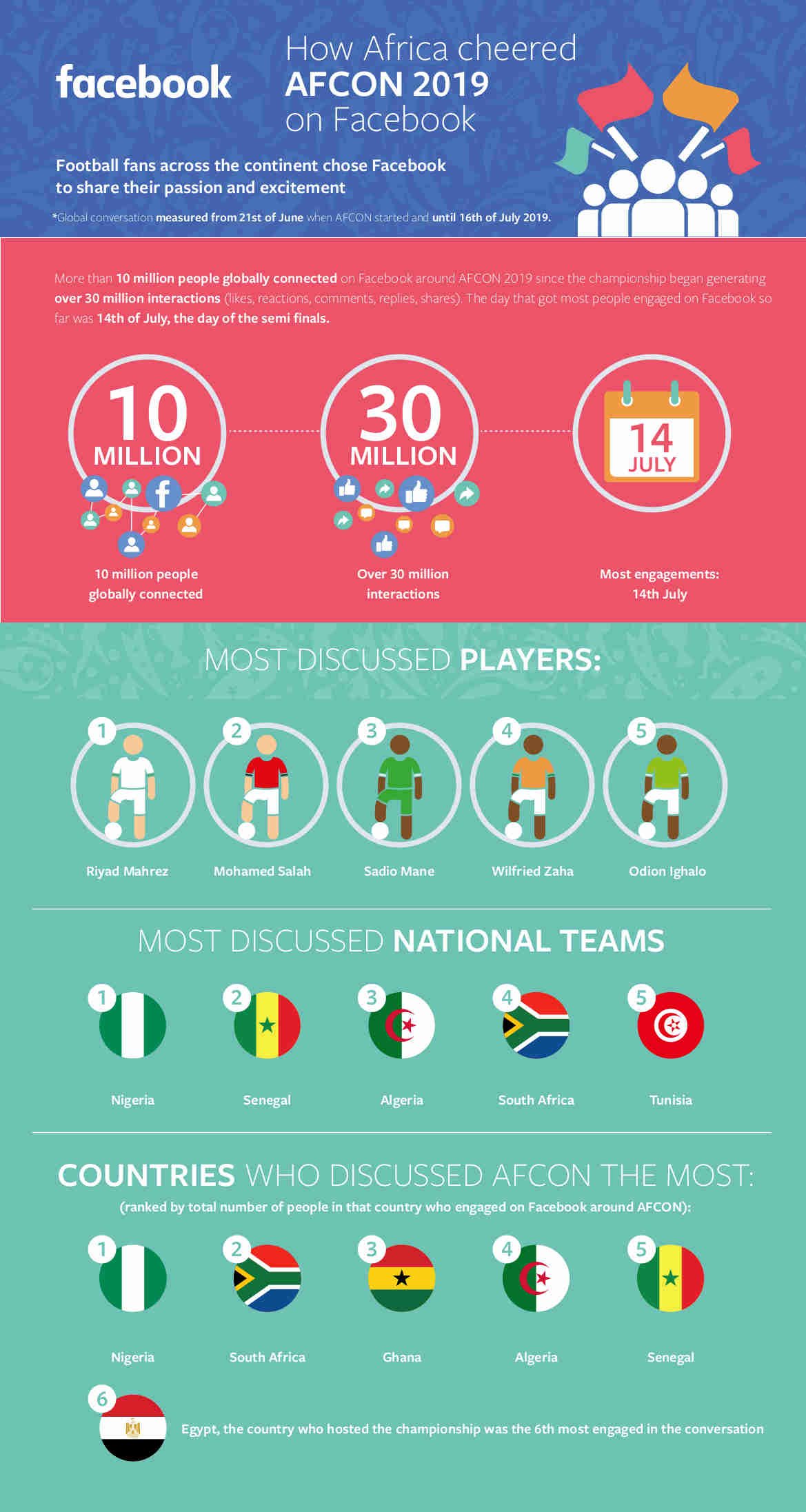 Methodology
"Facebook measured Facebook conversation including posts, comments, shares, likes and reactions related to the tournament. All data was aggregated and de-personalised. Conversations were identified based on keywords and combinations of keywords that were associated with discussions around AFCON 2019."