Dr. Akinwumi Adesina, Nigeria's immediate past Minister of Agriculture, on monday was named 2017 World Food Prize Laureate (it comes with a whopping $250,000) prize for driving change in African agriculture for over 25 years and improving food security for millions across the continent through his leading roles over the past two decades with the Rockefeller Foundation, at the newly established Alliance for a Green Revolution in Africa (AGRA), and as Minister of Agriculture of Nigeria..

​
Roles he played include but not limited to; significantly expandinh food production in Nigeria; introducing initiatives to exponentially increase the availability of credit for smallholder farmers across the African continent; and galvanizing the political will to transform African agriculture"
Now as the first person with an agricultural background ever to lead a regional development bank, AfDB President Akinwumi Adesina has become an African Child Nutrition Evangelist, telling everyone who will listen, as well as those who won't, that for Africa to succeed in the 21st century it must promote and enhance the nutritional, educational, and economic opportunities available to the next generation.
Profile
Born on February 6, 1960 in Ebadam, Nigeria, Akinwumi Ayodeji Adesina was the second of four sons born to Roland Folorunso Adesina and Eunice Adesina. He grew up in a one-room apartment without electricity or plumbing and slept side-by-side with his brothers on mats on the floor. Although his grandfather and father worked as farm laborers, his father was eventually able to receive some education as a teenager, which led to employment as a civil servant and provided the means to send his own sons to school.
Education
Adesina attended a village school rather than a city school because his father thought it was important for him to see the reality of rural poverty experienced by smallholder farmers and their families. This was a defining period for the young Adesina as he learned early in life about the crucial link between agriculture and livelihoods. His father told him, "You never know what you'll become in life. If you rise to a position of influence, then having known poverty first-hand will place you in a better position to help the poor."
After his secondary school education, he applied to the University of Ife in Nigeria where he studied agricultural economics and completed his Bachelor's of Agriculture degree at the top of his class.
Adesina met his wife Grace in a Christian fellowship group at the university, and they married in 1984. The couple has two children, Rotimi and Segun.
Grace's father had served as Minister of Agriculture in Nigeria under President Olusegun Obasanjo. In 1981, when Adesina went to see her father to ask for her hand in marriage, the two of them ended up having a long conversation about agriculture before Adesina finally got around to the purpose of his visit! Grace's father remained an important mentor to his son-in-law until his death.
Adesina went on to earn both his Master's (1985) and Ph.D. (1988) in Agricultural Economics at Purdue University in West Lafayette, Indiana, USA. The Purdue graduate years were at times financially difficult for Adesina and Grace, but several professors and their families provided friendship, mentorship, and helped sustain them. In 2015, Purdue recognized Adesina with an honorary doctorate.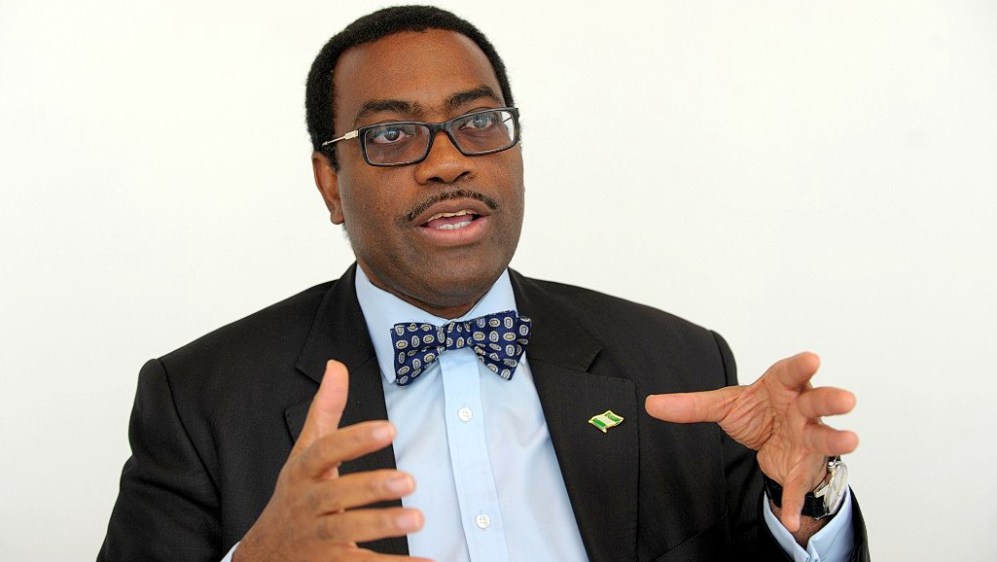 ​
Work
At the completion of his university studies, Adesina's goal was to return to Africa to help smallholder farmers increase crop production and improve their livelihoods. To that end, he accepted a post-doctoral fellowship at the Rockefeller Foundation in 1988.
The Rockefeller fellowship started him on an Africa-based ten-year career within the CGIAR system (Consultative Group for International Agricultural Research). He worked first at ICRISAT (International Crops Research Institute for the Semi- Arid Tropics) in India for several months before being posted to one of the Institute's facilities in Mali.
From 1990 to 1995, Adesina served as Senior Economist at WARDA (West African Rice Development Association, later known as Africa Rice) in Bouake, Cote d'Ivoire – where Dr. Monty Jones (2004 World Food Prize Laureate) was breeding new rice varieties known as NERICA. Later, as Minister of Agriculture, Akinwumi Adesina brought this "new rice for Africa" to Nigeria, which resulted in significant increases in rice production that helped the country become self-sufficient in rice. He next served as Senior Economist at IITA (International Institute for Tropical Agriculture) in Ibadan, Nigeria from 1995 to 1998.
In 1998, he was recruited to join the Rockefeller Foundation as Senior Agricultural Scientist in New York, and a year later he was appointed the first Director of the Foundation's newly opened Southern Africa Regional Office in Harare, Zimbabwe. In 2002, he became Rockefeller's Associate Director, Food Security.
Akinwumi Adeshina became the first person with an agricultural background ever to lead a regional development bank, AfDB (African Development Bank) a position he has held since 2015, As President of the African Development Bank Adesina has continued to work with government and business leaders to ensure that, from smallholder farmers to agribusinesses, all can be helped to grow and prosper.
He has declared a major goal to end malnutrition and stunting, an affliction caused by chronic under-nutrition during critical developmental periods early in life that affects over 40 percent of children in Africa. In his words: "The greatest infrastructure to build isn't a road or a rail or a port, as important as those are. The most significant infrastructure is brain power." To that end, he co-founded the African Leaders for Nutrition Panel with John Kufuor, the 2011 World Food Prize Laureate and former President of Ghana.
Awards
The YARA Prize (2007) for Adesina's leadership in pioneering innovative approaches to improve access to agricultural inputs for African farmers.
The CAST Communication Award (2010) for his role as a distinguished scientist, leader, and communicator who worked passionately for Africa's Green Revolution.
The Forbes Africa Person of the Year Award (2013) for his bold reforms in Nigeria's agriculture sector, which empowered farmers across Nigeria to embrace agriculture as a business.
World Food Prize Laureate (2017) for his role in driving change in African agriculture.
Vision
His vision of an Africa that will one day have the capacity to feed itself is, in Adesina's own words, a "big vision that will require political will and commitment from the private sector." He has set the direction and "put the stakes in the ground" as he constantly reflects on what Norman Borlaug used to say to him using an analogy to football (soccer): "Akin, go score some goals for African Agriculture!"