Violence across Nigeria calls to question credibility of general elections.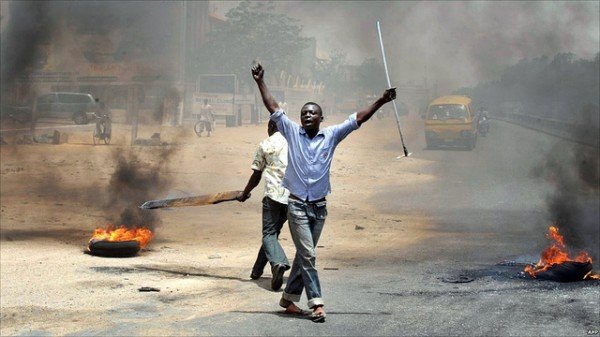 "That's Demola…that's Demola. He is the head of OPC (Odua People's Congress). They have stolen our vote in Okota and destroyed everything", they chanted, hurling more bricks on a man writhing in pain in a pool of his own blood,on a sun drenched tarmac.
He had been beaten to a pulp.
And then they fled the scene and left him for dead. The next scene would see pillars of fire flaming off the spot where he once stood.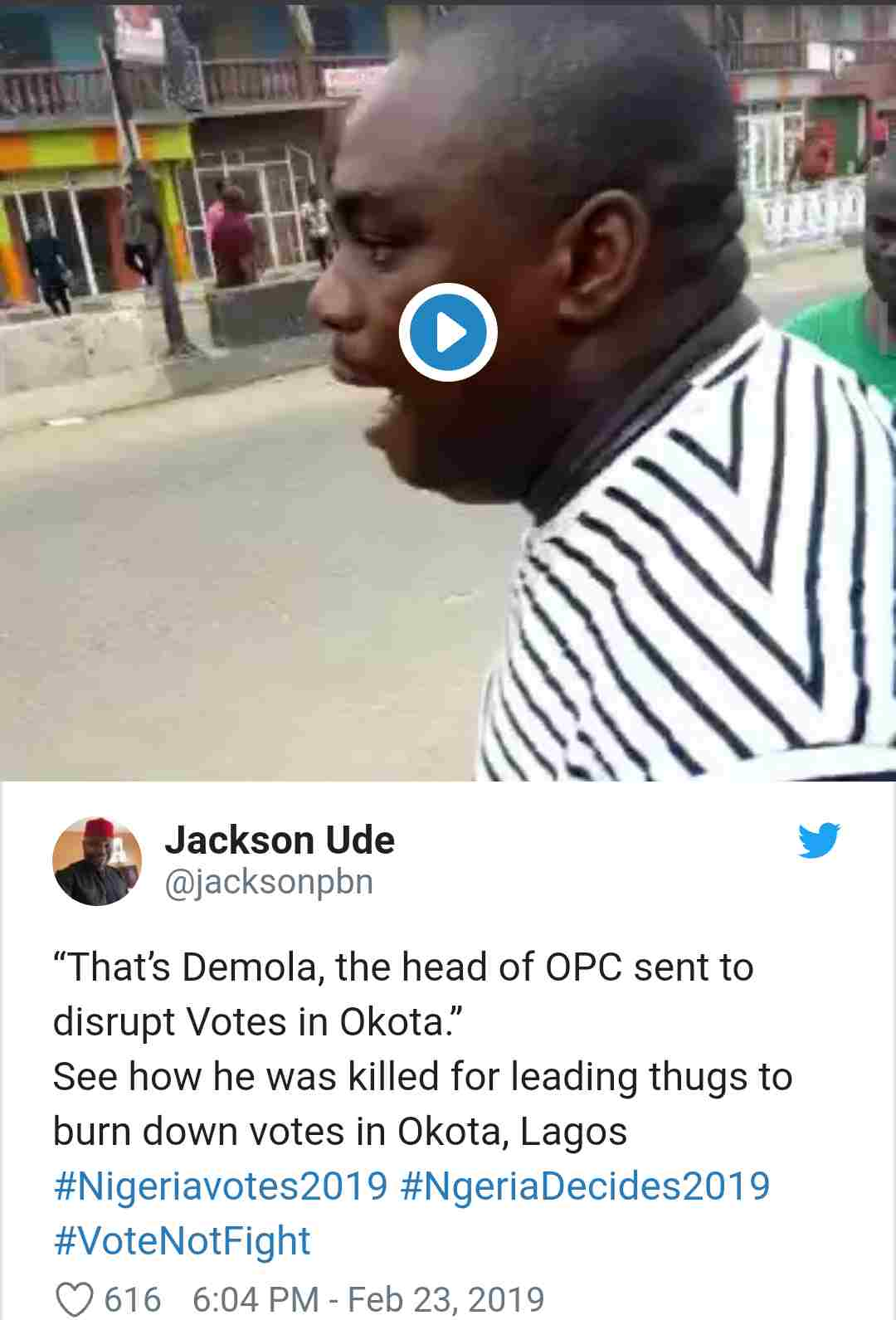 Nigeria's general elections have been marred by pockets of violence in the commercial capital city of Lagos and in a sprinkling of other states like Delta, Rivers, Kaduna and elsewhere.
"It's a shame that we got to this point", says Samson Toromade, Senior News Reporter at Pulse Nigeria. "This has taken our democracy several years back", he adds.
Pictures of violence from APC controlled Lagos have flooded the internet. In one polling unit in Isolo, voters of Igbo extraction chanted war songs after they were barred from casting their ballots for the opposition presidential candidate.
In a polling unit in Aguda, Surulere, thugs arrived and pummeled voters out of voting queues.
In yet another Okota polling unit, thugs set ablaze thumb-printed ballot papers with cigarette butts.
In Mushin, street urchins popularly referred to as 'area boys' stormed a polling booth and fearlessly carted away ballot boxes.
In the Lekki area, four young men took turns to beat up a younger man who had been ferreted out of a polling unit, as police officers looked on helplessly.
"Kind of shocking to see some form of electoral violence in Lagos. Lagos wasn't expected to be a hot spot", tweeted PR consultant and social media influencer, Japheth Omojuwa.
For another Twitter user Nnayelugo (@Eloka51), Lagos has become a bad example for the other less cosmopolitan states. "Lagos is this and that but when it comes to election and politics, their elites allow the use of thuggery, violence and tribalism. They will never fail to tell you that "we are accommodating you" and that you must vote our candidates. Tribalists masking as intellectuals. Tufia".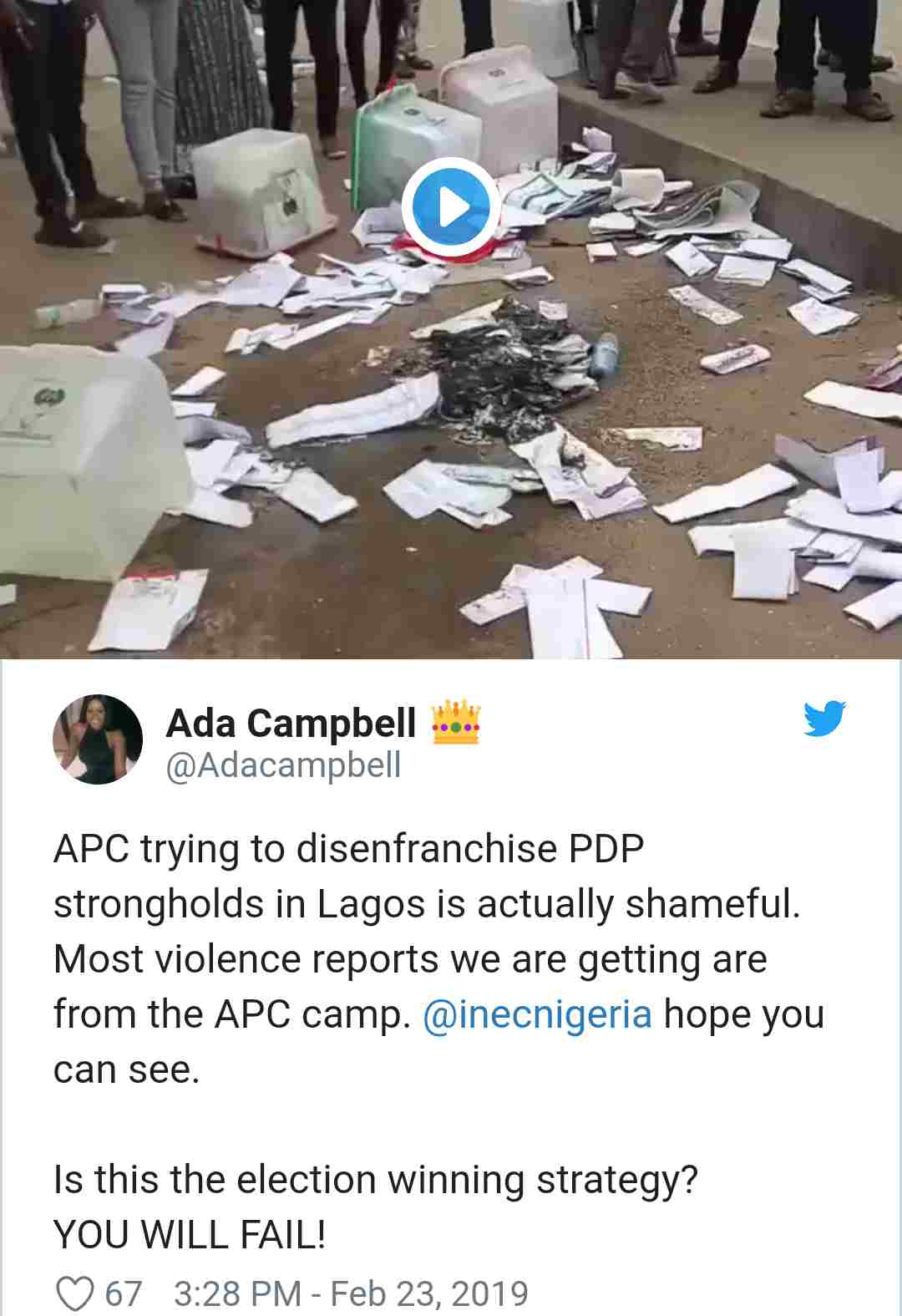 Jade Abayomi, a lecturer at the University of Benin, says "no one should be surprised by violence rearing an ugly head in Rivers and Delta because cult related killings are commonplace in these two South-South states. But Lagos often votes peacefully. This has been a shocker for me. Voter intimidation, suppression and ballot box snatching are acts we should have outgrown by now. But unfortunately, here we still are".
In Port Harcourt, Rivers State, four persons were reportedly shot dead and in Delta, a bus laden with explosives was stopped by eagle-eyed police officers.
Ballot box snatching stories have been recurring decimals all day, across this country of some 190 million people.
Fearful Start
Nigeria's presidential and parliamentary elections got off to a fearful start in the early hours of Saturday, February 23, when reports emerged that Borno State, epicenter of the Boko Haram insurgency, had been hit by multiple explosions.
However, police boss in Borno urged voters to disregard the reports because the explosions came off a military drill.
"The gunfire were not targeted at members of the public but was for security purpose….there's no threat to public peace and order", said Commissioner of Police in Borno State, CP Damian Chukwu.
The Lagos state police command is yet to issue a word on the spate of violence that trailed elections in the state.
Alhaji Atiku Abubakar is incumbent President Muhammadu Buhari's major challenger in the presidential election.
Both men are in the 70s.
©Pulse.ng
This post was republished from Pulse.ng, you can read the original article here