The government of Zimbabwe has spent millions of dollars on luxury cars for senior officials despite a deepening economic collapse that has plunged its citizens into untold hardship.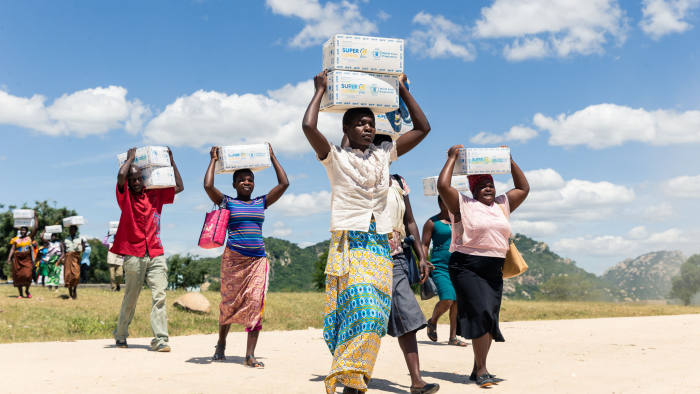 The new cars, including dozens of Range Rovers and Toyota pick-up trucks worth more than $40,000, were distributed to ambassadors and senior civil servants.
Analysts say the move constitutes a new effort to shore up support for the government of President Emmerson Mnangagwa, who took power after the military coup that ousted Robert Mugabe in 2017.
Dozens of luxury models are also believed to have been distributed to senior army officers, while junior ranks have received more modest vehicles. The total cost has not been disclosed but some of the purchases have been confirmed by ministers in answers to parliamentarians.
The head of Zimbabwe's health services board, Paulinus Sikosana, confirmed that commissioners recently took delivery of Range Rover Discoveries worth $50,000 each, however he was quick to defend the expenditure, stating that "the distribution was standard practice for senior bureaucrats".
"What's unusual about the expenditure [on luxury cars] is that it comes when the government is under siege financially. It looks like a desperate effort to scaffold their support. The real challenge for Mnangagwa is that the policy of patronage and plunder means significant reform is impossible," said Piers Pigou, an analyst with the International Crisis Group.
Currently, thousands of nurses and doctors are on strike in protest at working conditions, a lack of protective equipment and low salaries.
"The reality … is that we are incapacitated from attending work even if we wanted to," the Zimbabwe Nurses' Association (ZINA), which represents around 15,000 state nurses, said in a statement,
Enock Dongo, a nurse in Harare and president of Zimbabwe Nurses' Association (ZINA), said he could not afford to feed his family.
"If you look at how things have gone up in the shops, the basic commodities and rentals, surely you can not expect US$30 a month to cater for all that … We don't have anything. I have subsidised the government for a long time but now I cannot do that anymore," he told the Guardian.
According to the United Nations, an estimated 4.3 million rural Zimbabweans are currently facing food insecurity, as poor rains and erratic weather patterns are impacting harvests and livelihoods.
Millions of Zimbabweans in towns and cities are also threatened with food-Insecurity and malnutrition and lack access to minimum public services, including health and safe water".