A recently released Oxfam report has revealed that the continent's three richest billionaires have more wealth than the poorest 40% – or 650 million people across the continent.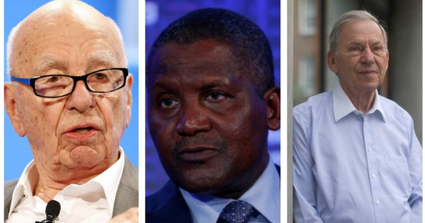 The three richest people on the continent according to Forbes 2019 billionaires list are Aliko Dangote ($14.1 billion), Nicky Oppenheimer ($7.7 billion) and Johann Rupert ($7 billion dollars).
The report, called " A Tale of Two Continents", was launched at African political and business leaders gathered last week for the World Economic Forum Africa meeting in Cape Town, South Africa. It shows how rising and extreme inequality across Africa is undermining efforts to fight poverty and achieve the Sustainable Development Goals.
Furthermore, it explained that the continent was rapidly becoming the epicenter of global extreme poverty. It adds that a massive reduction in the number of those living on less than $1.90 a day has been achieved in Asia, while in Africa the number is rising.
Winnie Byanyima, Executive Director of Oxfam International, said:
"Africa is ready to rise – but only once it's leaders have the courage to back a more human economy that works for the many and not a few super-rich men. They can achieve this by investing in inequality-busting, universal and quality public services like health and education and by developing truly progressive tax systems.
"According to the report, while the richest Africans fortunes are increasing, extreme poverty is also on the rise on the continent. The report further provides an analysis of how unsustainable levels of debt and a rigged international tax system are depriving African governments of billions of dollars in lost revenue each year. It asserts that this is the money that could have been invested in education, healthcare, and social protection.
The report also revealed that African women and girls are also most likely to be poor. They also stand to lose the most when public services like healthcare and education are underfunded.
"African political and business leaders face a clear choice. They can stay on the path of increasingly extreme inequality, where poverty continues to rise while wealth in the hands of a tiny elite and foreign companies' spirals. Or they can choose another way: towards a more prosperous and equal Africa that invests in and respects the dignity of all its people." Ms Byanyima said.