On Wednesday the 23rd of may 2018, Chimamanda Ngozi Adichie became the first African ever to deliver the Harvard College Class Day Speech, which is a major feature of the university's annual graduation events. Class Day speakers are selected by the graduating students themselves.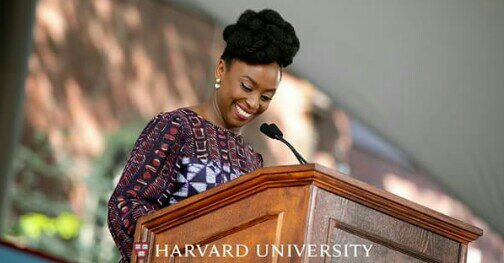 Previous speakers include last year's speaker, former US Vice President under President Obama, Joe Biden; former President Bill Clinton; Facebook COO Sheryl Sandberg; Nobel Peace Prize laureate Mother Teresa; legendary music producer Quincy Jones; Federal Reserve Chairman Ben Bernanke; CNN Chief International Correspondent Christiane Amanpour; and Coretta Scott King, the wife of Dr. Martin Luther King, Jr., who delivered the very first Class Day speech in 1968 (Dr. King accepted the invitation before he was assassinated in April of that year, and his wife spoke in his place).
Chimamanda's speech at Harvard on Wednesday conveyed the importance of seeking to tell the truth in today's world. She also stated that while it is very important for people to be outraged when appropriate, it is crucial for one to understand the context in which an event took place or a statement was made—as well as the intent of the protagonist or speaker—before becoming offended or outraged. She exhorted the graduating students to be courageous in speaking the truth, even at the risk of being criticized for doing so, noting that true satisfaction comes from maintaining one's integrity.
"Ignorance acknowledged is an opportunity; ignorance denied is a closed door. And it takes courage to admit to the truth of what you do not know," Chimamanda Ngozi Adichie said in her #Harvard18 Class Day speech https://t.co/oQOLAaaKDB

— Harvard University (@Harvard) May 25, 2018
"There is nothing more beautiful than to wake up every day holding in your hand the full measure of your integrity," she said. She received a standing ovation from the audience of approximately eight thousand people.