Since her independence in 1960, Nigeria has had 15 Presidents (millitary and civilian) and among the presidents there are some who spent so little time in office that they were barely able to fulfill their duties. This is a list of the Top 7 shortest serving presidents in Nigeria's history.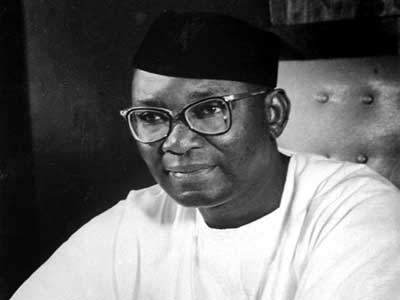 1. Ernest Shonekan – 83 Days (26 August 1993 – 17 November 1993)
Ernest Adegunle Oladeinde Shonekan was a British-trained Nigerian lawyer, industrialist, politician and traditional chieftain. He was appointed as interim president of Nigeria by General Ibrahim Babangida on 26 August 1993. After Babangida resigned under pressure to cede control to a democratic government. Shonekan took over.. but his transitional administration only lasted three months, as a coup led by General Sani Abacha forcefully dismantled the remaining democratic institutions and brought the government back under military control on 17 November 1993.
He holds the record for the Shortest Serving President In Nigeria's History
2. Major General Johnson Aguiyi – 177 Days (16 January 1966 – 12 July 1966)
Gen Thomas Umunnakwe Aguiyi-Ironsi was a Nigerian Igbo political figure who served as the President of Nigeria from January 16, 1966 until he was overthrown and killed in a coup on July 29, 1966. He was Nigeria's first military Head of State.
3. General Murtala Mohammed – 199 Days (29 July 1975 – 13 February 1976)
General Murtala Muhammed was the military ruler (Head of the Federal Military Government) of Nigeria from 1975 until 13th Feb 1976, when he was killed in an abortive coup attempt led by Lt. Col Buka Suka Dimka. He was succeeded by the then Chief of Staff, Supreme HQ Olusegun Obasanjo.
4. General Abdulsalami Abubakar – 355 Days (8 June 1998 – 29 May 1999)
Alhaji, Abdulsalam Abubakar succeeded Sani Abacha upon Abacha's death. It was during his regime that Nigeria adopted its new constitution on 5 May 1999, which provided for multi-party elections. Abubakar transferred power to president-elect Olusegun Obasanjo on 29 May 1999.
5. Major General Muhammadu Buhari – 1 year, 239 days (31 December 1983 – 27 August 1985)
Major General Buhari (pesident) and Major General Tunde Idiagbon (v.p) were selected to lead the country by middle and high rank military offices after a successful military coup d'etat that overthrew civilian President Shehu Shagari on December 31,1983. He was overthrown on the 27th of August 1985 in a coup led by General Ibrahim Babangida.
Muhammedu Buhari is currently the President of Nigeria, and has being in office since 2015.
6. Nnamdi Azikiwe – 2 years, 107 days (1 October 1963 – 16 January 1966)
Nnamdi Azikiwe on the 16th of November 1960, became the Governor General of Nigeria, with Abubakar Tafawa Balewa as Prime Minister. On the same day, he became the first Nigerian named to the Privy Council of the United Kingdom with the proclamation of a republic in 1963, he became the first President of Nigeria. He was removed from power in the millitary coup of 15th January 1966.
7. Umaru Musa Yar'Adua – 2 years, 341 days (29 May 2007 – 5 May 2010)
Umaru Musa Yar'Adua was the President of Nigeria from 29 may 2007 to the 5th of may 2010 when he died from an illness.
(Source 1 | Source 2)