The World Press Freedom Index is an annual ranking of countries compiled and published by Reporters Without Borders based upon the organisation's own assessment of the countries' press freedom records in the previous year.
The World Press Freedom Index measures the level of media freedom in 180 countries, including the level of pluralism, media independence, and respect for the safety and freedom of journalists. The 2017 Index takes account of violations that took place between January 1st and December 31st 2016.
See Also: Top 25 Most Corrupt Countries In Africa
According to the 2017 world press freedom index Ranking released on April 26th, Nigeria is 122nd globally and 32nd in Africa. Namibia tops Africa in press freedom as they are ranked 24th globally out of 180 countries, they are closely followed by Ghana and Cape Verde which respectively rank 26th and 27th globally.
South Africa, Burkina Faso, Botswana, Mauritania, Mauritius, Madagascar and Senegal complete Africa's top 10 list.
See also: Top 10 Most Powerful Militaries In Africa (Updated)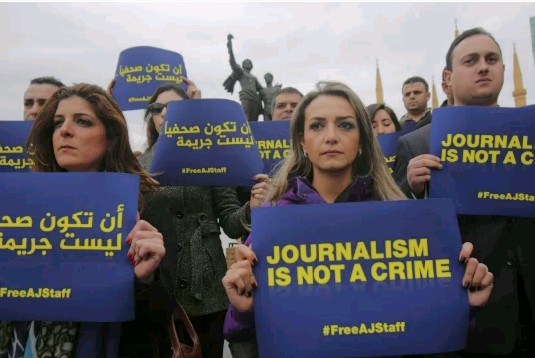 ​
Overall, Africa comes out in the report as the World's third freest region after the Americas, Europe and the Balkans.

Below are the Top Ranking African Countries in 2017 World Press Freedom Index (Freedom of The Press).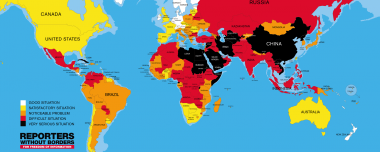 Rank
Country
Abuse score
world Rank
1
Namibia
0
24
2
Ghana
0
26
3
Cape verde
0
27
4
South Africa
0
31
5
Burkina faso
6.93
42
6
Botswana
0
48
7
Papua N.G
0
51
8
Mauritania
13.86
55
9
Mauritius
0
56
10
Madagascar
0
57
11
Senegal
0
58
12
Malawi
0
70
13
Guinea bissau
0
77
14
Benin
0
78
15
Cote d'ivoire
21.97
81
16
Tanzania
10.99
83
17
Suerra leone
0
85
18
Togo
0
86
19
Seychelles
0
87
20
Mozambique
23.03
93
21
Liberia
16.09
94
22
Kenya
45.95
95
23
Tunisia
21.97
97
24
Guinea
45.75
101
25
Gabon
35.34
108
26
Uganda
44.19
112
27
C.A.R
6.93
113
28
Zambia
24.85
114
29
Congo brazaville
28.90
115
30
Mali
23.03
115
31
Chad
10.99
121
32
Nigeria
35.55
122
33
Angola
0
125
34
Zimbabwe
38.50
128
35
Cameroon
30.91
130
36
Mozambique
23.03
93
37
Morocco
31.35
133
38
Algeria
35.55
134
39
Gambia
45.43
143
40
South Sudan
46.25
145
41
Ethiopia
59.66
150
42
Swaziland
0
152
43
D.R Congo
50.94
154
44
Rwanda
6.93
159
45
Buruni
40.60
160
46
Egypt
68.07
161
47
Libya
60.98
163
48
Somalia
55.68
167
49
Eguitorial Guinea
0
171
50
Djibouti
32.19
172
51
Sudan
27.73
174
52
Eritrea
71.71
179