What is soot?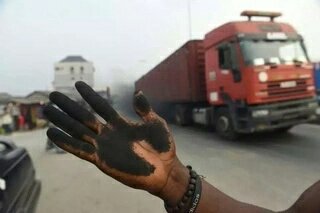 Soot is the common term for a type of particle pollution called PM 2.5 — particulate matter that is 2.5 micrometers in diameter or smaller. Such fine particles are even smaller than dust and mold particles, or approximately 1/30 of the size of a human hair.
It is comprised of a variety of pollutants, including chemicals, acids, metals, soils, and dust, which are suspended in the air after emission.
How is Soot Produced?
Soot is a byproduct of burning fossil fuels, particularly coal. It is emitted by a variety of sources, including burning coal for electricity or industrial fuel, manufacturing, oil refining, and motor vehicles.
Soot is released into the air as either extremely small particles or liquid droplets. Some solid particles are emitted directly into the air while others are formed when gases form particles as they are carried thousands of miles from pollution sources.
Black Soot Pollution in Port Harcourt
Port Harcourt residents in Rivers state, Nigeria are at risk of having health issues that may arise from the recently noticed black soot deposits on cars, mosquito nets, floor and rooftops.
Those who live in and around Port Harcourt get covered in this black soot as they go about their daily activities. Having to stay out all day is not the only way residents get covered in soot; their homes are no longer safe because the soot filters in through unlocked doors (and even locked doors) and open surfaces.
Burning tyres for scrap copper and illegal oil refineries have both been blamed for the residue.
The Port Harcourt soot is really going out of control and residents of Port-Harcourt City in Rivers State have taken to their Twitter pages to make their voices heard using the hashtag #StopTheSoot
Port Harcourt Soot In Tweets
I always looked forward to the rainy season I loved playing in the rain.. now I dread it.. Look at the colour of the water. We need help #StopTheSoot #StopTheSoot #StopTheSoot pic.twitter.com/6hiE0s1Ugd

— Uduakobong (@Klaxique) April 7, 2018
https://twitter.com/gidimeister/status/981970790223679488?ref_src=twcamp%5Ecopy%7Ctwsrc%5Eandroid%7Ctwgr%5Ecopy%7Ctwcon%5E7090%7Ctwterm%5E3
https://twitter.com/ogundamisi/status/982557426254843904?ref_src=twcamp%5Ecopy%7Ctwsrc%5Eandroid%7Ctwgr%5Ecopy%7Ctwcon%5E7090%7Ctwterm%5E3
This is how we gonna breath very soon in portharcourt if the #soot continues… #StopTheSoot @StopTheSoot @ph pic.twitter.com/h7r6MfwhN0

— Senior Man of Portharcourt (@OluwafemiG) April 13, 2018
This picture is a reflection of how the security agencies contribute to the soot.I said it before, @GovWike has little or no role to play in its control as control of the major contributors are domiciled within the exclusive list of the constitution. Google will give more pic.twitter.com/qONeFfZZdK

— Declan Ekenna (@chiedoziedeclan) April 11, 2018
Very sad! 2 years ago, a friend and resident of PortHarcourt woke up with his nostrils looking black. Using a tissue, he found black soot deposits. I can't imagine what must have been inhaled @NBiosafety @Fmohnigeria @NGRPresident @NGRSenate @HouseNGR @nesrea @UNFCCC https://t.co/lhWjpFFfHM

— I am A Patriot (@ilivinus) April 8, 2018
Dangers (Health & Environmental Dangers) Of Soot
To help you better understand the dangers people living in Port Harcourt are facing, we've put together this list of potential problems.
Acid rain – Compounds from soot – sulfur dioxides and nitrogen oxides – combine with moisture to form acid rain, which worsens water quality, damages soil and crops, and changes nutrient balances in various ecosystems.
Respiratory Concerns – If the air in your home contains a high concentration of soot, its tiny particles can get deep into your lungs and cause inflammation. Breathing sooty air for long periods of time can jeopardize your respiratory system and damage blood vessels. It can also cause coronary heart disease, asthma, bronchitis, and many other respiratory illnesses.
Children are particularly vulnerable as is anyone with a known respiratory or heart condition.
Watery eyes, runny nose, and coughing are all symptoms of being effected by toxic soot. Effected immune system, respiratory problems, and heart conditions can all be results from soot exposure. The combination of size and toxicity can allow a soot particle to enter deep into the lung and cause serious damage.
Precautions
1. Adopt the habit of cleaning
Self-conscious sanitation would help reduce the accumulation of black soot.
Surfaces should be cleaned daily with detergents in order to avoid the accumulation of soot. Doing this regularly would reduce the amount of black soot gathered around your house and office.
2. Shut windows
Windows and doors should be shut as often as possible in order to prevent the soot from pouring in.
3. Wash your hands daily
While outside (or even inside), your hands may have gathered germs and might have touched the open surfaces filled with the soot. It is advisable for residents to take shower three times daily.
4. Keep your skin covered
The clouds have remained dark in certain areas of the state due to the air contamination.
Protective clothing will help you at this period when the city and its environs are covered with soot.
5. Cover your food
Eating foods that are exposed is not healthy as they could have been contaminated.
How You Can Help
Share this post on social media, using the hash tag #stopthesoot also don't forget to tag rivers state governor on twitter @govwike, Nigeria's president @mbuhari and Nugerias vuce president @profosinbajo