Black African veterans who fought for Britain in the second world war and were paid much less than their white counterparts would not be getting compensation from the British government..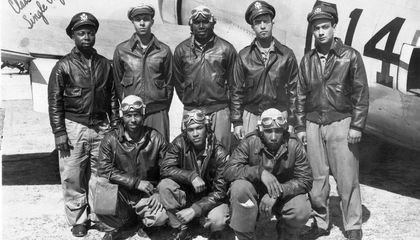 UK Defense Minister Tobias Ellwood, in a private letter to lawmakers seen by The Guardian, said there were no "no current plans to take forward any further investigations of this matter," as full investigations would require "extensive resources."
His letter was in response to a written question from Richard Benyon, a Conservative MP and former lieutenant with the Royal Green Jackets, an infantry regiment in which Ellwood also served.
During the second world war, Britain recruited some 600,000 African men to fight against the Axis powers. In France, Italy and Germany, in India, Burma or on the Pacific islands, these African soldiers died for their European colonial masters. Some of these Africans were forcibly and secretly conscripted, while others were beaten by their superiors.
But when the fighting was over, Britain sent these African soldiers back home with an end-of-war bonus that was roughly a third of the reward given to their white counterparts, a recent report by The Guardian revealed.
The report said Britain paid its soldiers not only according to their rank and length of service but also their ethnicity. Some senior opposition politicians subsequently called on the British government to make an official apology, to begin an investigation and to compensate the last surviving veterans affected.
Veterans
Eusebio Mbiuki, one of the surviving veterans from Kenya who fought for the British in the jungles of Burma and now living in poverty in his home country said: "When I got out, they gave me nothing."
"They should have known how much we had helped them. They would have given something. But that was not the case. We were abandoned just like that," 100-year-old Mbiuki was quoted in a report by Foreign Policy.
Despite the harsh conditions and discriminations faced by Mbiuki and his colleagues, the UK government said that although it "remains indebted" to African servicemen and women, the soldiers involved were employed by their respective governments, not the UK Army, and this makes it difficult to establish the full facts.
The decision "in no way diminishes how grateful the UK is to all those servicemen and women from the Commonwealth who served with Britain during the second world war," said Defence Minister Ellwood.
Labour raised concerns over the decision to abandon further inquiries, reports The Guardian . "It beggars belief that the government simply cannot be bothered to investigate how many black African veterans who faced this appalling discrimination are still alive, and compensate them while there is still time to do so," Emily Thornberry, the shadow foreign secretary said
"We need to hear from Boris Johnson and Jeremy Hunt as to whether they will reverse this shameful inaction."
This is not the first time the British government has been accused of discriminating against soldiers it recruited from its former empire. In 2009, Gurkha veterans, that is, ex-servicemen of Nepalese ethnicity who had fought for Britain, won the right to settle in the UK after a court battle.
©CNN