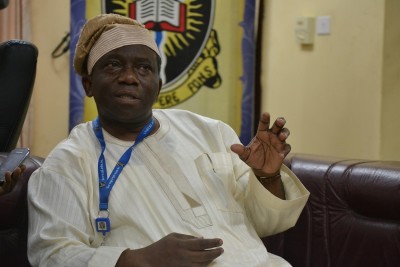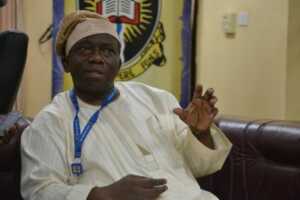 During an interview with the News Agency of Nigeria (NAN) editor-in-chief, Nigeria's minister of health, Isaac Adewole, revealed that presently In Nigeria, no public hospital -not even one- has a cancer treatment machine that is in a perfect working condition.
There are seven in the country, but none is working.
"The cancer burden is of concern to me" He said.
"I agree cancer is a major problem and it is increasing. As people grow older, more people will have cancer, because those cell divisions that take place in our system grow abnormal"
"As we are talking today, there is no public hospital in Nigeria that has cancer treatment machine that is working"
He also revealed that ideally Nigeria needed one machine per one million people. Going by that, Nigeria should have about 200 working cancer treatment machines.
HERE IS THE FULL INTERVIEW
Q. On free surgeries
Minister: We are providing free 10, 000 surgeries for poor and indigent Nigerians all over the federation and of these we will also do repair of fistula. In fact I have interviewed one of them in Maiduguri and asked him to show appreciation to Mr. President who provided the resources for the program. The one in Maiduguri is hernia and the one in national hospital is VVF.
We have a large number of VVF patients nationwide. We have close to 150, 000 cases. It is a lot. We are working with our international partners to help the victims.
Fortunately government in the past had set up three VVF hospitals. We want to add two more and when we add two more that means we can be able to do more.
I have also directed all CMD's to take up more staff specifically to do the VVF repair so that we can clear the backlog.
Q: Where will the two centres be located?
Minister: One will be located in Ibadan. We are looking at either Ilorin or Port Harcourt for the fifth centre. At the moment, there is one in Ningi, Bauchi State, Babanruga in Katsina and there is one in Abakaliki.
That is not to say those are the only places where it can be done. Any of our teaching hospitals does VVF, once there is a gynaecologist.
Q: Recently cancer, especially breast and cervical, has been ravaging Nigerians. What is the government doing on this problem?
Minister: Due to my interest in cancer, the cancer burden is of concern to me. The first thing we want to do is to revise the National Cancer Plan. We are also setting up a steering committee, which I will also chair.
I agree cancer is a major problem and it is increasing. As people grow older, more people will have cancer, because those cell divisions that take place in our system grow abnormal.
What is important for us to do is to increase awareness. That's why we are working with the media. If we increase awareness many of those things that are indicative of early cancer will make people to go to hospital and get treatment.
Most cancers can be treated if presented early. But people don't come for treatment early. Someone close to me has breast cancer. She said she does not want the breast to be removed and I told her that when the breast cancer starts smelling you will hate yourself.
On cervical cancer; fortunately we now know what causes it.
There is a vaccine now that prevents the disease and we are working to make the vaccine available. We are training more people for the detection of the cancer of the cervix. Much more important also in our 2017 budget we want to upgrade seven more centres for the treatment of cancer.
As we are talking today, there is no public hospital in Nigeria that has cancer treatment machine that is working.
Ideally we need one machine per one million people. Going by that, Nigeria should have about 200 cancer treatment machines. We have seven but none of the seven machines is working today.
But in the 2017 budget, we will ensure that each of the seven centres has two machines which means one will be a backup.
We will upgrade Maiduguri, Zaria, Ilorin, the National Hospital, Abuja, Ibadan, Benin and Enugu in the first phase.
We are likely to get a private sector organisation to help with the National Hospital; in fact we may sign the Memorandum of Understanding (MoU) this month.
If we take National Hospital out, we will go to Sokoto. Gombe is waiting. Jos will be in the second round.
I got a grant some years back to set up six centres of excellence. I put one in Jos, and I can tell you that Jos is one of the best. They have done better than Ibadan.
The government is committed to making sure that we have the facilities to handle cancer cases.
Q: Is the theory that cancer is connected with the genetically modified food correct?
Minister: We do not have accurate knowledge as to what causes cancer. Let me give you simple analogy, if you have ten people who fall from a building, not all of them will die. One will break his leg, some may have scratches etc. That is the same thing with cancer.
When you expose everybody to the same problem, not everybody will develop cancer. So, the body immunity also matters.
Cervical cancer is also caused by virus. By the age of 20 years to 25 years almost all women who have had sex before will have cervical cancer virus.
When you give them another three to four years, the virus will disappear, the immunity would have cleared it. But you have some women, less than five per cent, who would not be able to clear the virus because of the body system.
It's these few people who are unable to clear the virus in their system that develop cancer in future. We should be careful with the way we handle GMO because GMO is an attempt to address the problem of hunger, better variety of food. And whether we like it or not, we need better variety.
Q: What is the link of sugar consumption to the problem of cancer?
Minister: None.
Q: Research says sugar worsens cancer cases, is it true?
Minister: Too much of sugar on cancer is just like too much of carbohydrate. When one is predisposed, it leads to diabetes. But then if one exercises well, it will go.
There are some people no matter what they take, they would not grow fat and some will take little and yet they grow fat. So it is not sugar alone, it is carbohydrate, because whether you take garri, pounded yam or amala, they end up to be sugar in the body.
Q: The country is losing a lot in foreign exchange on medical tourism. What is the government doing on the issue?
Minister: Every day we get between two and five requests for foreign medical treatment. Initially they were asking for permission. But because I will say no, let them go to this or that hospital, they are now asking for refund, after they have gone and come back. Each case is about 10 to 11 million Naira.
The solution is for us to upgrade our facilities , which we are working on. Those seven facilities which will be upgraded are not for cancer alone. We will ensure that they function well.
I am also talking to Central Bank and the Sovereign Wealth Investment Authority on the need to save foreign exchange. The cost is not just for the sick person. When they go to India, India will insist that the person must have treatment partner; somebody else is also going and that person will stay in the hotel, eat, fly and pay transport. The burden is very huge on us.
The solution is for us to upgrade our facilities. When we upgrade them, we will stop many people. But we also need to sanitize some elements of corruption.
Some doctors are eager to refer. There was one I sent to UCH. UCH did it. It's cerebral aneurysm. So many cases can be done here. That is the truth.
Q: Recently there was transplant of bone-marrow in Benin. Is it only Benin that has the facilities?
Minister: It is only Benin that is a step ahead and we want to encourage many more to be able to do marrow transplant. But it is Benin that has taken the lead and we are encouraging as many of them that want to come into this area because it can lead to the cure of so many ailments including sickle cell. The way it is, is that you can harvest the marrow. When you harvest it, you are killing the cancer cells. So when the cancer is gone you take back the marrow. We are also doing open heart surgery in our country.
Q: Where ?
Minister: Many of our facilities are doing it now. It is a question of the facility and people around. Even as we are speaking , there are Nigerians going for cancer treatment in Ghana. But the machine broke down last week.
But we are upgrading our facilities and training some people. Our population is big, that is why if Ghana should have one machine, you can imagine how many we need to have.
Q: Any message for Nigerians on polio now?
Minister: Mr. President actually is like a prophet. He said we should expect challenges, on polio when I met him. He said he knew polio will come, because these are children. Many of them have no access to medical treatment.
But we are committed to what we are doing. With the partners we have, Nigeria will be polio free in 2017.