Petite 'N Pretty makeup startup based in California is encouraging toddlers and kids alike to wear makeup with its new products.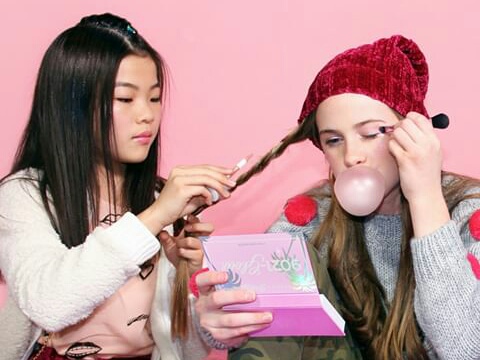 The startup founder, Samantha Cuttler looks to cultivate ladies obsession with makeup among other girls throughout the world as young as four years old. She's launched "Petite 'N Pretty," which makes cosmetic products that will look good on small faces.
Petite 'N Pretty founder Samantha Cutler, the former chief of product development at Stila Cosmetics, said the makeup for youngsters should promote creativity and expression.
"Young creatives are changing the way the world sees pretty by redefining it on their terms with a next-gen point of view that celebrates sparkle in everyone," Petite 'N Pretty's website reads. "This is about good old-fashioned fun."
The brand's website and Instagram currently feature images of young girls wearing full faces of makeup, and some feel that the brand oversexualizes children
Petite 'N Pretty's makeup rage features lip glosses, eye shadows, glitter and more, with products priced between $16 and $250.
The products are marketed to children aged four to 18, particularly influencers on Instagram, YouTube and other social media outlets. Buyers on the company's website have to be at least 16.
People have been quick to criticize the new makeup line, with Allure's beauty editor, Sable Young, saying the way it's marketed could be problematic.
"I balk at the idea of marketing to kids the same kinds of language and imagery that funnels certain specific aesthetics and beauty standards into seemingly innocuous, sparkly packaging," she wrote.
Young added that the company's name itself could be harmful to children.
"With a brand called Petite 'N' Pretty, the message is upfront in the name. "Pretty" and "petite" are both words that are just modifiers, but in the context of beauty and body image, they take on a meaning we know all too well," she wrote.
Petite n Pretty founder, Samantha Cutler does not seem to believe she is actually brainwashing young girls to aspire to be "petite" and "pretty," although it is right there in the name she chose. Instead, the website claims that the brand is consumer-led, and responding to the needs of young girls clamoring for these products.