Ethiopian Airlines has been named Africa's best airline for 2023 at the annual World Airline Awards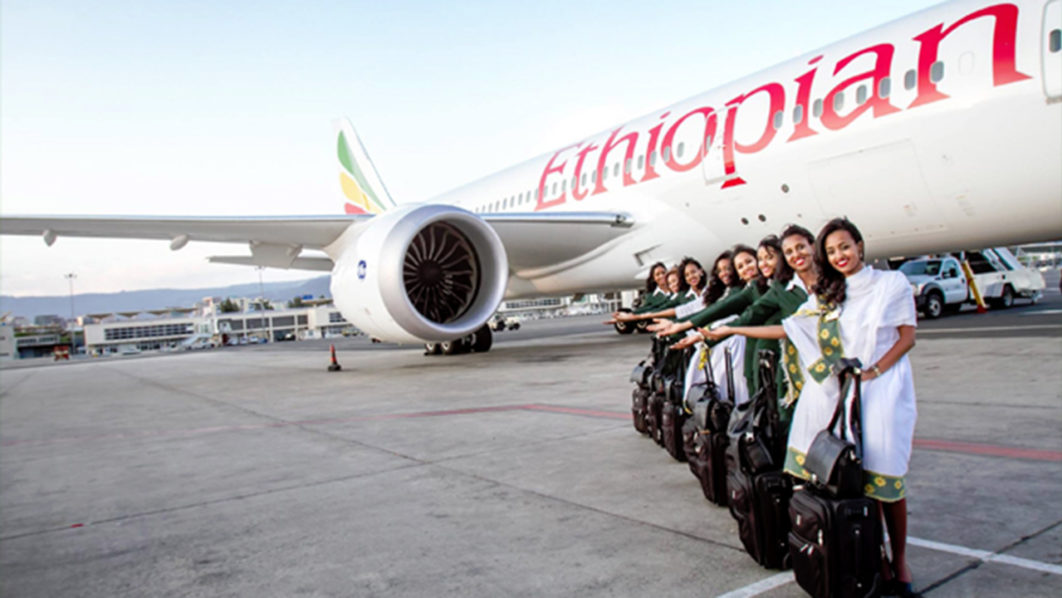 In 2022, Skytrax, a leading air transport rating organization, announced the top 10 best airlines in Africa. These airlines have excelled in providing exceptional services, safety, and comfort to their passengers, earning them a prestigious place on the list. The ranking is based on a comprehensive assessment of airlines' overall performance, including customer satisfaction, safety standards, and service quality. Among the top-performing airlines in Africa, Ethiopian Airways, the national airline of Ethiopia, was named the best in the continent for the year 2022. With its high-quality services and innovative offerings, Ethiopian Airways has set a benchmark for other African airlines to follow.
Top 10 Best Airlines In Africa, 2023
According to the list, these are the top 10 best airlines in Africa 2023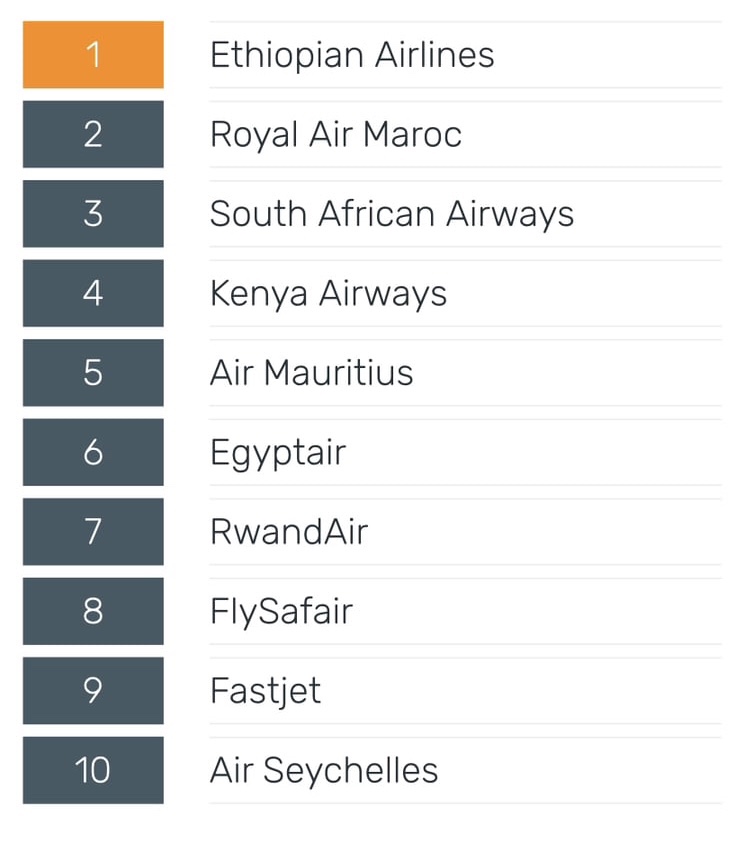 1. Ethiopian Airlines
For the sixth consecutive year running, Ethiopian Airlines has taken the number one position as the best airline in Africa. They have been unstoppable, as they have expanded their fleet and also are exploring new, under-served markets and destinations.
Ethiopian Airlines has now grown to more than 120 destinations across the world, equipped with 115 ultra-modern fleet. They are driven by an incessant need to satisfy their customers; meeting and exceeding their expectations. Ethiopian Airlines is the trailblazer when it comes to aviation in Africa.
Ethiopia's flag carrier is wholly owned by the government and was launched in December 1945 and commenced operations on 8 April 1946, expanding to international flights in 1951. The firm became a share company in 1965, and changed its name from Ethiopian Air Lines to Ethiopian Airlines. Its hub and headquarters are at Bole International Airport from where it serves a network of 113 passenger destinations —19 of them domestic— and 35 freighter destinations. Ethiopian flies to more destinations in Africa than any other carrier. It is one of the fastest-growing companies in the industry. It is one of the most profitable airlines in Africa.
2. Royal Air Maroc
More commonly known as RAM, Royal Air Maroc is the Moroccan national carrier as well as the country's largest airline. RAM is fully owned by the government of Morocco, and has its headquarters on the grounds of Casablanca-Anfa Airport.
It is fully owned by the government. From its base at Mohammed V International Airport, the carrier operates a domestic network in Morocco, scheduled international flights to Africa, Asia, Europe, and North and South America, and occasional charter flights that include Hajj services.
Royal Air Maroc is the second best airline in Africa
3. South African Airways
The largest airline in South Africa, and the third best airline in Africa, South African Airways has its headquarters in Airways Park at OR Tambo International Airport. The airline flies to 56 destinations worldwide, in partnership with SA Express, SA Airlink and its low cost carrier, Mango, within South Africa and across the continent, and nine intercontinental routes from its Johannesburg hub at OR Tambo International Airport, using a fleet of 54 aircraft.
The airline is the largest airline in South Africa and has its headquarters in Airways Park at OR Tambo International Airport. Previously, the airlines has been awarded the Best Airline Staff, Best Business Class Lounge, Best Cabin Crew and Best Airline Cabin Cleanliness.
4. Kenya Airways
Kenya Airways Ltd., more commonly known as Kenya Airways, is the flag carrier of Kenya and the fourth best airline in Africa. The company was founded in 1977, after the dissolution of East African Airways. The carrier's head office is located in Embakasi, Nairobi, with its hub at Jomo Kenyatta International Airport.The airline was wholly owned by the Government of Kenya until April 1995, and it was privatised in 1996, becoming the first African flag carrier to successfully do so. Kenya Airways is currently a public-private partnership.
Being the first carrier to successfully undergo privatization in 1996, there are now proposals from Kenyan lawmakers to
nationalize Kenya Airways. The airline is Sub-Sahara's largest airline, but has been posting losses lately in the region of $59 million. Although saddled with debt, the airlines has plans to add up to twenty new destinations in Africa, Europe and Asia in the next five years.
5. Air Mauritius
Air Mauritius has a fleet size of 15 and has 24 destinations. The airline recently added to its fleet the new Airbus A330-900neo jetliner, becoming the first airline in the Southern Hemisphere (and only the third in the world) to do so.
The airline is headquartered at the Air Mauritius Centre in Port Louis, Mauritius. Its main hub is Sir Seewoosagur Ramgoolam International Airport. The company is the fourth largest carrier in Sub-Saharan Africa, and has an important standing in the European, African, and Indian Ocean region markets.
6. Egyptair
Egypt air is the sixth best airline in Africa. The airline is the flag carrier airline of Egypt. It has more than 75 destinations in the Middle East, Africa, Eurpoe, the Americas and Asia. It recently received its third Dreamliner aircraft , the Boeing 787-9 Dreamliner.
7. Rwanda air
Rwanda Air, the national carrier of Rwanda, has made impressive strides in the aviation industry in recent years. As of 2023, Rwanda Air was ranked the 7th best airline in Africa by the reputable aviation industry rating agency Skytrax. This ranking places Rwanda Air among the leading airlines on the continent, showcasing the airline's commitment to delivering exceptional service and maintaining high safety standards. Rwanda Air's rise to the top echelon of African airlines can be attributed to its modern fleet, extensive route network, and dedication to customer satisfaction. In this article, we will delve into the reasons behind Rwanda Air's impressive ranking and what sets it apart from its competitors in Africa.
8. FlySafair
FlySafair is a South African low-cost airline that has been making waves in the African aviation industry. Founded in 2014, the airline has quickly established itself as a reliable carrier, offering affordable air travel to a growing number of destinations across South Africa. In recent years, FlySafair has earned recognition for its exceptional service, safety standards, and overall customer experience. As a result of its outstanding performance, FlySafair was recently ranked as the 8th best airline in Africa, cementing its position as one of the top carriers on the continent.
9. Fastjet
Fastjet Plc is a British-based holding company for a group of low-cost carriers that are, or are expected to be, operating in Africa. The company's stated aim is to become the continent's first low-cost, pan-African airline.
Fastjet has moved one place up from last year. It is an airline that is focused on low-cost services and it operates in South Africa, Zimbabwe, Zambia, Tanzania, and Mozambique. t is a British/South African-based company. The company has been facing some financial struggles but it is determined to stay afloat.
10. Air Seychelles
Air Seychelles is the national airline of the Republic of Seychelles, with its head office located at Seychelles International Airport on the island of Mahé. It operates inter-island services, charter services and international flights. Its main base is Seychelles International Airport. As the main driver of tourism in Seychelles, it is one of the core pillars of the national economy.
Responding to the direct flight launched by Air Mauritius, Air Seychelles upped their baggage allowance to 2 checked bags at 32 kg each on the route, beginning July 1. This applies to business class passengers. Economy class passengers have an allowance to to check in 2 suitcases at 20 kg each. The limit for most airlines is 23 kg. The airline is currently 40% owned by Etihad Airways, the national airline of the United Arab Emirates.
Methodology
The methodology used for determining the best airlines was based on cabin service, ground/airport services and onboard conduct. You can read more about it here