For the past few months now Davido and Wizkid (and even their fans) have been going at each other's throats, jousting for supremacy, who is better than the other and all.
The competition between both acts has even divided the pop music base in Nigeria with half repping Davido, and the other half holding it down for Wizkid.
In this special entertainment edition, listwand gives you 6 Reasons Why Davido Is Better Than Wizkid..
​
1. Davido obviously has more money than Wizkid
When it comes to the money war, Davido holds the bigger gun. Being the son of a multi-millionaire makes him a very rich individual based off his future inheritance. Before the release of his first album, he moved into a mansion. Wizkid rented a house in Lekki after considerable success after his first album was released. Davido's money count is just too much for Wizzy to match. Let's not forget that Davido is making good money off music.
2. Davido created a Dance step
Davido gave the world the Skelewu dance that caught on like fire. Wizkid hasn't created a dance of his own. The closest he got was hopping the Azonto dance. O.B.O created a movement with Skelewu.
3. Davido has more presence in Africa
In the motherland, Davido has a firm grip. He was able to achieve this by touring the continent extensively within the last two years. While he was doing this, Wizkid preferred to solidify his fan base in England. Yes, Wizkid has been to a few African countries this year, but Davido has been there before him.
4. Loyalty
Davido still has the same guys he started with. His friends from his early days are still with him. He even signed his cousins B-Red and Sina Rambo to his label. Wizkid has changed buddies as his life has changed. Many of the people who hustled with him are no longer around. Some even have issues with him. Davido has put his guys on more than Wizkid.
5. Arrogance
Wizkid, from what we know, he came from a middle class family but he acts like he's been living the life of gold already. He's been making dumb comments to his fans who made him. He once said "when broke people think they have a say" to a fan who inquired about his next album. These same fans made him and just like a typical African star. We've heard bad rumors about the kid star concerning his fans..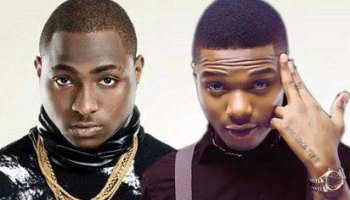 ​
6. Planless
Wizkid is just following the footsteps of D'Banj who rose to the sky and dropped like God kicked him back to earth. He is rushing for international fame just typical of most African musicians thinking that is the way to heaven. Truth is, you need to conquer your world first. Currently Davido is popular all over Africa, Kenya, Tanzania, Liberia, Sierra Leone, Ghana, Zimbabwe and his home country, Nigeria. He seems to have a plan, trying to conquer his continent before moving to the world. Wizkid is forgetting that the foreign world doesn't have anything for him. All his crap lyrics "lelelele and yaaga" and things won't make the cut. If I was him, I would learn a lot from D'Banj's failure. Even Kanye West couldn't help D'Banj, what more can a douchebag like Chris Brown and Justin Bieber do for you as an African artiste?…
Culles from the internet