An Ethiopian Airlines plane enroute to Nairobi from Addis Ababa crashed on Sunday morning immediately after takeoff killing all 157 people on board including the eight crew members on board.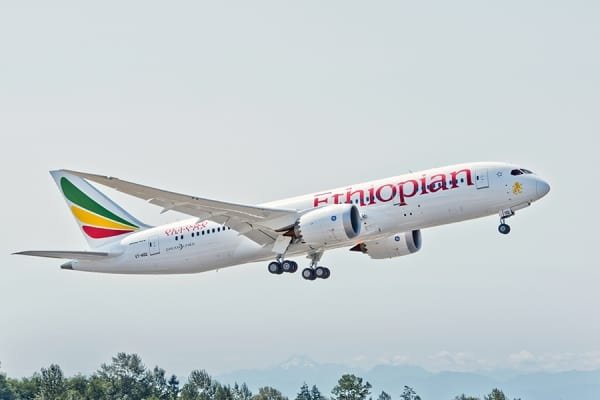 The crash was first confirmed by the Ethiopian government in a tweet expressing its "deepest condolences to the families of those that have lost their loved ones."
Office of the Prime Minister – Ethiopia
@PMEthiopia
The Office of the PM, on behalf of the Government and people of Ethiopia, would like to express it's deepest condolences to the families of those that have lost their loved ones on Ethiopian Airlines Boeing 737 on regular scheduled flight to Nairobi, Kenya this morning.
The airline released a statement saying the crash happened six minutes after the new Boeing 737 Max-8 took off from the Ethiopian capital to Nairobi.
It said a total of 35 nationalities were onboard including a UN passport holder. 32 Kenyans, 18 Canadians, nine Ethiopians, eight Chinese, eight Americans and seven British nationals were among the passengers.
The cause of the disaster is not yet known but air traffic monitor
Flightradar24 reported that the plane's "vertical speed was unstable after take-off," cites the BBC.
The airline also said the pilot had reported difficulties and had asked to return to Addis Ababa before the plane crashed around the town of Bishoftu, which is 60km (37 miles) south-east of the capital.
"At this stage, we cannot rule out anything. We cannot also attribute the cause to anything because we will have to comply with the international regulation to wait for the investigation," said Ethiopian Airlines CEO Tewolde Gebremariam during a press conference at the Bole International Airport in Addis Ababa.
The Ethiopian Prime Minister Abiy Ahmed visited the accident site and called for a "full and timely investigation and communication of the cause" of the crash.
Thousands of messages of condolence from all over the world have been sent and are still been sent to the families of the victims who have been given emergency lines to reach a passenger information center.