Chinese e-commerce giant Alibaba on Wednesday launched Africa's first Electronic World Trade Platform (eWTP) at a special ceremony in Kigali, Rwanda.
Rwandan President Paul Kagame and Jack Ma.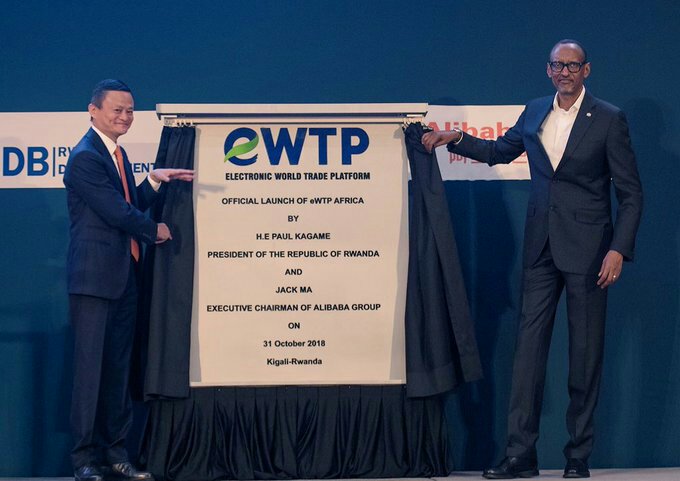 Executive Chairman of the Alibaba Group, attended the launch event and unveiled a plaque to mark the establishment of the first electronic world trade platform on the African continent
The new electronic platform will enable small- and medium-sized enterprises to participate in cross-border electronic trade, and aims to promote trade and tourism between Rwandan and Chinese consumers.
"I hope from today that eWTP Rwanda can be able to support small businesses, young people and women here in Africa and sell their things to enable them to global buy, global sell, global deliver, global pay and global travel," said Jack Ma, executive chairman, Alibaba Group.
Under the eWTP agreement, @AlibabaGroup will work with the RDB to help Rwandan SMEs sell their products, including coffee and handicrafts, to Chinese consumers through Alibaba's online marketplaces
The platform will also help promote Rwanda as an attractive tourist destination to Chinese nationals.
Alibaba's affiliate company Ant Financial will share expertise in inclusive financial tools, such as mobile payments, to support Rwanda's digital economy.
Angel Zhao, president of the Alibaba Global Business Group said they will provide training for young people, to let them engage in e-commerce and the future digital transformation and upgrade.
"We also hope to cooperate with local government and business partners to build the eWTP, the Electronic World Trade Platform. We plan to build the platform with the help of the e-commerce infrastructure," he added.
In addition, Alibaba is also set to host a three-day workshop at its headquarters in east China's Hangzhou for policy makers, to showcase the nature and capabilities of the new digital economy.