The advancement in technology in the 21st century has seen a rise of older birth mothers not only in developed countries but also in developing countries. Below are the top 7 of the most oldest women to give birth in the 21st century.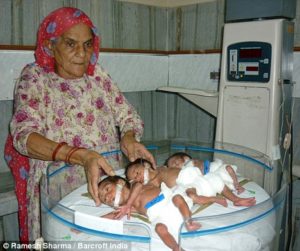 7. Elizabeth Adeney, 66 Years
United Kingdom Elizabeth "Lizzie" Adeney, aged 66, gave birth to a 5 lb 3oz son, Jolyon, in Addenbrooke's Hospital, Cambridge, England, on May 28, 2009, becoming Britain's oldest mother.
The child, who was conceived through IVF treatment in Ukraine from oocyte and sperm donations, was delivered by caesarean section.
"It's not physical age that is important – It's how I feel inside. Some days I feel 39. Others, I feel 56." She said.
She had gone to Ukraine for the treatment because apparently, clinics in her home country had refused to treat her stating that she was over 50.
6. Devi Singh, 66 Years
Devi Singh, gave birth on the 06 of June 2010 to triplets, two boys and a girl, in Alewa, Haryana, North of Delhi, at the age of 66.
The children are Mrs Devi's first, and were conceived through IVF treatment at the National Fertility Centre in Haryana state, Northern India.
She is the oldest known woman to give birth to triplets.
As of October 2014, Devi was still alive but bedridden due to complications during childbirth.
5. Adriana Iliescu, 66 years
On the 16th of January 2005, Adriana Iliescu, gave birth to her first baby 'Eliza Maria' at a hospital in Bucharest, Romania by Caesarean section at the age of 66 years, 7 months and 16 days. After undergoing IVF treatment, courtesy of donated sperm and eggs implanted by a Romanian fertility expert seemingly keen to make medical history.
Iliescu initially became pregnant with triplets, but one of the fetuses died in the utero. The other two were delivered by caesarean section, but one of them was stillborn.
4. Carmen Bousada, 66 years
Carmela Bousada in her bid to get pregnant travelled to Los Angeles sometime around april/may for fertility treatment costing about £30,000.
She later gave birth to twin sons, Pau and Christian, at Sant Pau Hospital in Barcelona, Spain, on December 29, 2006, at the age of 66 years 11 months, and 24 days, one week before her 67th birthday.
The babies were delivered prematurely by Caesarean section and weighed 3.5 lb (1.6 kg) each.
She died on July 11, 2009 from stomach cancer, which she developed soon after giving birth to her twins; her sons were only 2 ½ years old then.
3. Rajo Devi Lohan, 69 Years
Rajo Devi Lohan made headlines around the world at the age of 69 by becoming the world's oldest first-time mother back in 2008, after receiving an IVF treatment from National Fertility & Test Tube Baby Center, Hisar (Haryana), India.
As of October 2014, Rajo Devi Lohan was still alive but bedridden due to complications during childbirth.
2. Panwar Omkari, 70 years
In her desperation for a male heir, Omkari Panwar became pregnant through IVF treatment, and gave birth to twins, a boy and a girl, via emergency caesarean section in Muzaffarnagar, Uttar Pradesh, India, on June 27, 2008, at the age of 70.
The babies when delivered weighed 2 pounds each.
1. Daljinder Kaur, 70 years
After two years of treatment using donor eggs at a fertility clinic in the northern state of Haryana, 70 year old Daljinder Kaur gave birth on april 2016 to a son (Arman) who was healthy and hearty, and weighing 4.4lb (2kg). It was her first successful pregnancy in 46 years of marriage.
"God heard our prayers. My life feels complete now," she told Agence France-Presse from the northern city of Amritsar. "I am looking after the baby all by myself. I feel so full of energy. My husband is also very caring and helps me as much as he can."She said.
Kaur stated her age as 70 at the time of birth, but the clinic where she had IVF treatments stated she was 72.