Abdul Rahman Ibrahima was a Fulani prince from the Fouta Djallon region of Guinea, who was captured and sold into slavery in 1788. After spending 40 years enslaved in the United States, he was freed in 1828 and returned to Africa.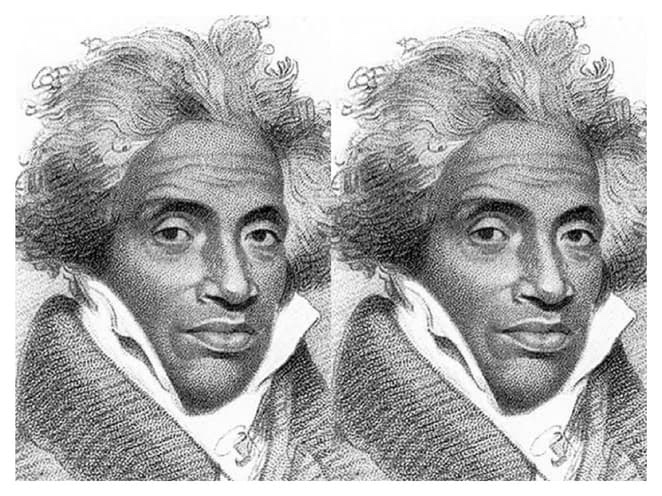 Abdul Rahman Ibrahima was born in 1762, in Timbuktu, the son of Ibrahima Sori.
When he was aged five, his father relocated his family from Timbuktu to Timbo, now located in Guinea, and there in 1776 Ibrahima consolidated the Islamic confederation of Fouta Djallon, with Timbo as its capital, eventually succeeding as its Almami, a title given to West African Muslim rulers in 19th century.
Being the son of an Almami, Abdul Rahman studied in a madrasa at Djenné and Timbuktu, speaking at least four African languages in addition to Arabic. On returning to his homeland in 1781, he got married, fathered a child and joined his father's army.
Seven years later in 1788, Abdul rahman was given command of 2000 cavalry troops for a campaign against the "Heboh tribe" that had been obstructing their trade in war-captive slaves with the Europeans.
Although his campaign was successful, his cavalry was ambushed in the mountains on his trip back home, he was shot, captured and enslaved.
The captive Abdul Rahman was sold to European slave merchants, reportedly for "two bottles of rum, eight hands of tobacco, two flasks of powder, and a few muskets".
He was one of over 12 million Africans who were caught and sold to the New World during the transatlantic slave trade era.
On getting to the US, Abdul was taken to Natchez, Mississippi, where he and another slave were sold to one plantation owner, Thomas Foster, for about $950.
Thomas Foster was an uneducated man who knew little about cotton, and Abdul did, as cotton was grown in his hometown of Fouta Djallon. With Abdul's help, Foster became one of the region's leading cotton producers. Abdul also helped in the managing of his cattle and also supervising other slaves.
On Christmas day, 1794, Abdul married Isabella, another slave of Foster's; their union produced nine children.
Abdul Rahman's life changed in 1807, when he went to a local market at Washington Mississippi to sell vegetables, there he came across an old acquaintance, Dr. John Coates Cox.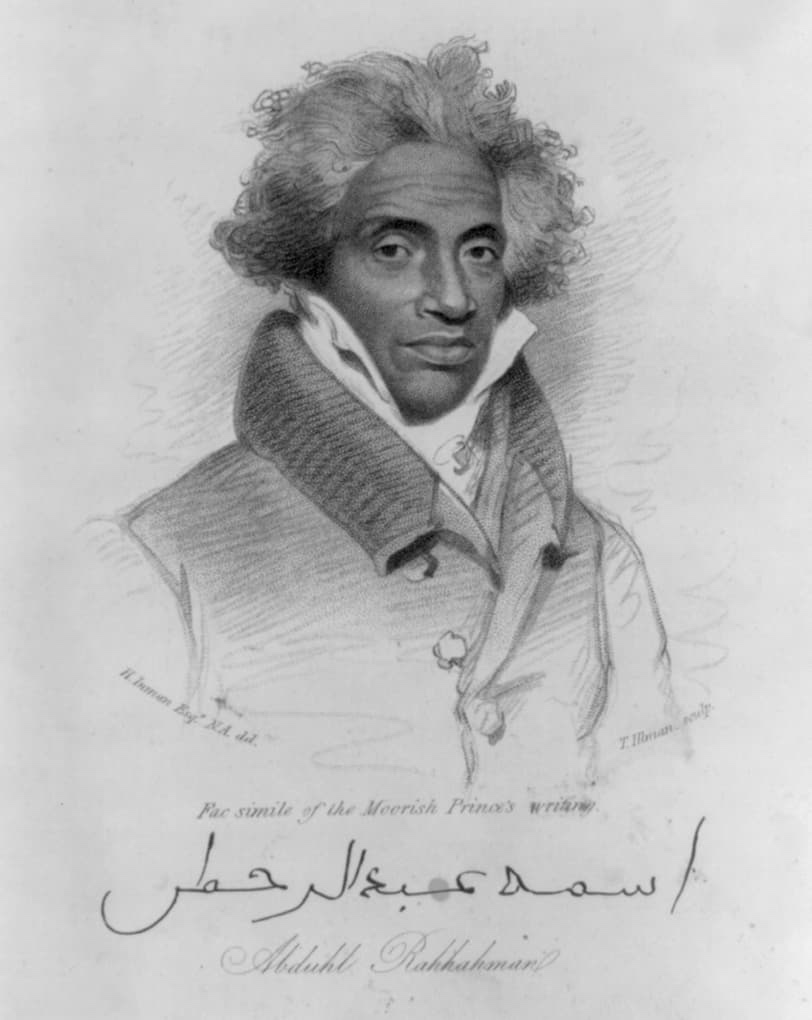 In the 1780s, Abdul had rescued an injured Cox along the West African coast, nursed him to health and also housed him for six months before escorting back to the coast to find transport home.
Recognizing each other at the market, the two men greeted, and after catching up, Cox followed him home. On meeting his master, Cox offered to buy him for $1000, so the man could return home to Africa, but Foster refused to sell as Abdul Rahman was indispensable to his plantation.
The doctor continued to seek Abdul Rahman's freedom, to no avail, until his death in 1816.
In 1826, at the suggestion of a local newspaperman, Andrew Marschalk, Abdul wrote a letter in Arabic to his family in Africa narrating everything that has happened to him since they last saw him. The letter didn't get to his family, but it found its way to Sultan Abderrahmane II of Morocco, who then wrote to the US asking that U. S. President John Quincy Adams and Secretary of State Henry Clay intervene for the release of Abdul Rahman in exchange for the freeing of several Americans prisoners held in his country.
Following this intervention, Thomas Foster finally agreed in 1828 to release Abdul Rahman without payment, he also freed his wife at a discounted fee of $200, but he kept all their children and grand children.
Abdul Rahman was faced with a conundrum after his release, he couldn't leave the U.S without his children and grandchildren and he also didn't have enough money to buy their freedom.
After consulting with some of his friends, he and his wife went on a 10-month tour of various cities in the US soliciting donations, through the press, personal appearances, the American Colonization Society and politicians, to be used to free his children from enslavement.
Abdul Rahman and Isabella had only raised $4000 of the estimated $10,000 needed to free their children and grandchildren when he heard rumors that Thomas Foster was looking to enslave him again.
Abdul and his wife eventually departed for Liberia without their family on February 9, 1829, on the Harriet, a voyage of freemen that was funded by the American Colonization Society.
Their ship arrived in Monrovia, Liberia in March of 1829.
Abdul Rahman continued writing to America, pushing for more funding to free his children, he also stated in one of his letters that he was "unwell, but much better.
Abdul rahman never got to see his hometown of Fouta Djallon or his children again as he died within four months of his arrival on July 6, 1829, at the age of 67.
The funds he and his wife raised only ended up buying the freedom of two of their sons and their families, they too journeyed to Liberia to reunite with their mother Isabella.
The remaining seven children and their families remained as slaves in Thomas Foster's plantation.